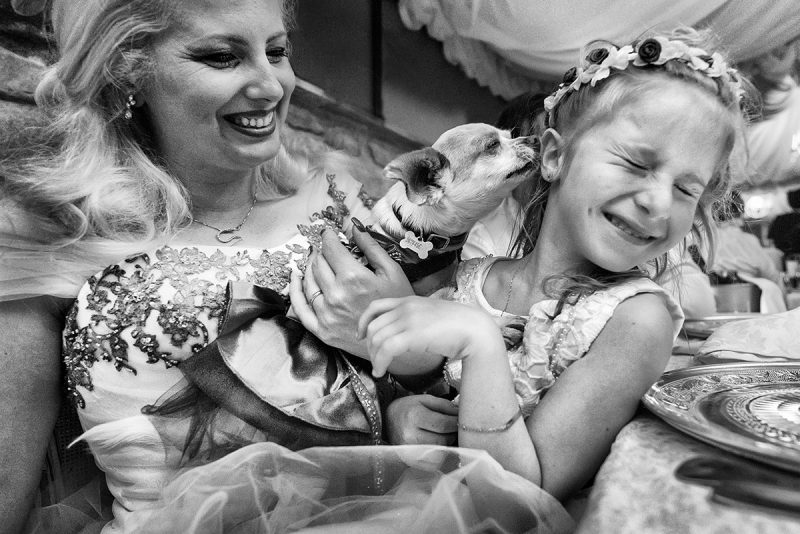 31 May

Dogs & Weddings
Dogs & Weddings
From the photographic point of view, a dog is a big help for the photos, because the spontaneity of the animal often allows the couple to be more natural.
It really depends on the kind of dog, a funny dachshund can be amusing and cause of original shots, a newfoundland near the water maybe could compromise the bride dress.
It happened, in this period, to take a lot of pictures with animals (you can find some examples in this article). I admit, their presence helps to break the ice with che clients and to create very funny images; who remains impassive in front of a pet?
Years ago, I followed a couple who arrives at the altar with their loyal labrador; when he saw it, the priest smiled and told to some people who criticized the thing "Don't worry, it comes here with me, so they can't say there's no dog in this church." (it's an Italian way to say there's nobody).
In my personal photographic research, I always look for stealing spontaneous pictures during the service and an animal often creates interesting situations where the sponteneity of the subjects comes out.
My advice is to bring it with you, maybe with a dog-sitter who takes care of it during the ceremony or the reception. Dogs are often our partners in our cheerful moments, during the weekend and holidays promenades; so why give up to them in our most important day?
Be honest, you invited some less loyal friends at your wedding, right?
Anyway, believe in me: even better a dog than a cat which wreck your dress with the claws… the best match is dog & wedding.